Best Air Fryer Grill Combo of 2023 – Grill and Fry Like a Pro!
Fajitas, enchiladas, vegetable medleys, and bagel pizzas taste deliciously differently cooked in an Air fryer grill combo. Nevertheless, multipurpose combos are prone to damage and become useless as air fryer and grill systems are interlinked. However, choosing an appropriate option according to your usage is the ultimate solution. Instead of regretting later on, choose wisely.
Don't you hate it when you fall into selection paralysis after reading and watching so many user reviews? Instead of wasting time and money, be an intelligent buyer. After in-depth research and acquiring real-time user reviews from professionals and loyal customers, I have compiled a honing list of the 7 Best Air Fryer Grill Combos. Moreover, I have also formulated a quick formula to evaluate your purpose-based needs and decode the function you must hunt in the combo before spending $$.
Best Air Fryer Grill Combo – Top 3 Picks
BEST PICK
COSORI Aeroblaze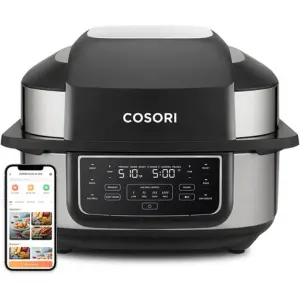 8-in-1 multipurpose appliance
One-touch meal preparation
Cooks food quickly and with perfect taste
Smoke filters and splatter guard
STAFF PICK
Ninja FG551 Foodi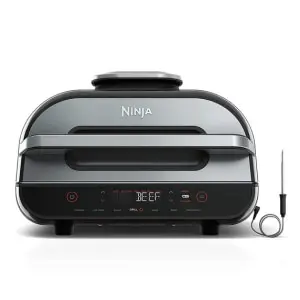 Smart Cooking System
Capacity to cater larger meal sizes
Less Oil Consumption
6 practical functions
BUDGET PICK
PowerXL GMC01 6QT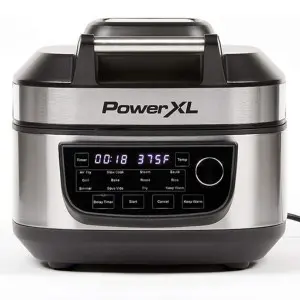 Premium quality built
wide range of temperature controls
Real multitasker combo
Touch controls with 12 presets
7 Best Air Fryer & Grill Combos – Comparison & Reviews
1. COSORI Electric | Smokeless Indoor Grill & Smart XL Air Fryer Combo
| | |
| --- | --- |
| Brand | COSORI |
| Controls | Smart Controls |
| Material | Stainless Steel |
| Wattage | 1750 Watts |
| Dimensions | 16.2″D x 13.7″W x 10.4″H |
One common complaint while using indoor grills is that they taste different from conventional ones. However, the COSORI 8-in-1 combo imitates the original fire grill because of its 360-degree rapid air circulation. Moreover, the 510 F temperature also creates grill marks and crisps with tempting flavor within minutes.
Although multiple options are available in the market, 85 % less oil consumption makes it stand out in my case. The combo becomes a perfect option for restaurants, indoor grilling, and air frying.
According to my experience, the Cosori Pro II Dual Blaze, the previous Model, was a great option, but the noise it produced while grilling was quite annoying. But when I asked a professional chef, he praised its Virtual-smoke-free flavor and smoke-free grilling. Further, the stainless steel and programmable recipes maintain the temperature and cook the food silently. Just imagine how tempting to get the classic grilled-flavored, ready-to-eat meal on your plate without noise and suffocating smoke.
You may often cower in fear due to the appliance's messiest and most complex cleansing. In contrast, the stainless steel with ceramic-coated grills makes cleaning easy and mess-free. Moreover, the cooking pot and basket are dishwasher washable.
What we like
8-in-1 multipurpose appliance with premium functionality
Smart setups for one-touch meal preparation
Cooks food quickly and well done with perfect texture and taste
Smoke filters and splatter guard removes the smoke and carbon
What we don't like
Divets are not strong enough to hold the tray at the time of tilting the drawer
No spare trays and baskets in case of damage
The Cosori Airfryer grill combo is a perfect option for one looking for an indoor airfryer and grilled food. Moreover, the multifunctional kitchen appliance performs at an optimum level. Baking, dehydrating, broiling, grilling, air frying, roasting, and preheating or warming becomes super easy with the combo airfryer and grill. Due to its small size, there are better options for restaurants and commercial food stalls.
2- Ninja FG551 Foodi | Smart XL 6-in-1 Indoor Grill with Air Fryer Combo
| | |
| --- | --- |
| Brand | Ninja |
| Model | FG551 Foodi 1st gen |
| Controls | Programmable |
| Material | Stainless Steel |
| Voltage | 110 V |
| Dimensions | 16.75″D x 16.54″W x 11.1″H |
When you are a cook by chance it becomes difficult to evaluate the doneness of food. Guesswork is not the right option when you are new in the kitchen. In that case, Ninja FG551 has one button touch system that caters to well-done food with auto-cooking setups. The smart thermometer in the Model is making it my favorite. All I have to do is set the protein and doneness levels to 4 and 9 respectively.
A common issue with other indoor grills is the presence of moisture in the grilled meat. But Ninja introduced the cyclonic grilling technology in the Model that evaporates the moisture at 500 F creating perfect char-grilled marks on the steaks. Nevertheless, the flavors and tenderness are tempting and retain the taste.
The drawback of the previous Cosori Fryer and grill combo was that the appliance's size needed to be corrected for restaurant-level bulk cooking. However, the XL capacity in the Ninja FG551 is high, and you can quickly cook up to 6 bulky steaks and 24 hot dogs at a time. So, the giant can easily prepare a feast for your next party.
It is one of the best indoor grills and air fryers, reducing fat consumption by up to 75%. Crisps, wedges, and hand cuts, when deep fried, absorb so much fat and make it consumable for cardiac and hypertension patients. However, using the crisper basket, you can prepare the food without the hassle.
Although I love the aromatic smoke of BBQ platters, it's annoying and suffocating to have it all around your home. So, what I noticed in the Model is its smoke control system. The grill grate is temperature optimized, which prevents smoke production. In addition, splatter shield along with a cool air zone reduce the smoke and keep your kitchen fresh and aromatic.
What we like
6 practical functions include a grill, air crisp, roast, bake, broil, and dehydrate.
Introduction of advanced technology-smart system
Capacity to cater larger meal sizes
Guilt-free food preparation with the minor oil consumption
Complements all kinds of kitchen setups
What we don't like
Initially takes some extra minutes to heat up
The air crisper basket is not very deep
The multipurpose appliance can reduce the cooking time drastically. So does the Ninja air fryer and grill combo. I recommend the combo to anyone who is either running out of time mostly and not a pro chef who opts for it. You will never starve or crave a good meal. Within a short span of 30 minutes, you may cook your loaded meal. Even the XL capacity makes it perfect for an indoor grill dinner for a group of foodies.
3- PowerXL Best Indoor grill and air fryer Combo
The Real multitasker combo for budget
| | |
| --- | --- |
| Brand | PowerXL |
| Model | MFC-AF-6 |
| Controls | Touch Controls |
| Material | Stainless Steel |
| Wattage | 1550-Watts |
| Capacity | 6 Quart |
I added the PowerXL to my recommendation because of its multipurpose setup within a limited budget. While exploring the package details, I was astonished by the premium accessories at the same price. A tempered glass lid lets you peek into the pot and evaluate the cooking process. Nevertheless, a serving ladle is essential for a nonstick inner pot and grill plate. All this is the affordable price of the air fryer grill combo.
When I talk about its working procedure, the interface, and controls are just suitable for a newbie in the kitchen. Especially the recipe book and quick start guide are beneficial. What else can you demand when you have one-touch handling for 12 different ways of cooking?
Although PowerXL Smokeless Grill Family is the perfect grilling appliance for indoor, the air fryer combo with grill options overpowers the show.LED display with 12 presets options makes it incredibly convenient to select the cooking procedure. Whether it's a slow cook, indoor BBQs grilling, healthy air frying, or marking steaks with tempting grill marks. The tender, juicy grilling is the best about this Model.
A wide range of temperature controls also made me recognize the brand in my list. 180°F – 500°F is good enough for slow cooking and instant searing at high temperatures. Besides, rapid air also fries items while eradicating the need for oil. However, the crisps are crunchy and also with perfect doneness.
Talking about the capacity, I found it good enough for a medium-sized family. You can cook around 6 salmon fillets along with 4 burger patties and half a chicken at one go. However, it could be a better size for restaurant needs, yet a suitable option for an individual with minor cooking skills.
What we like
Premium quality built including plate, basket, and pan
The removable lid makes cleaning hassle-free
Auto-shut-off prevents the mishaps
Reduces cooking time without compromising the flavor
Touch controls with 12 presets
What we don't like
Frequent beeping often annoys.
It takes a bit longer to settle between the countertop and under the cabinet space (a 2-foot space is needed for a lid to completely open)
Smell and sight are what make the food tempting and delicious to taste. The Model is designed to be your cooking partner. PowerXL can bake, cook, roast, grill, warm, air fry, and even simmer sauces. The multiple accessories make the combo the best airfryer grill combo for home cooking.
4- Cuisinart TOA-70 8-1 Air fryer and Oven
Giant Air Fryer with grill option
| | |
| --- | --- |
| Brand | Cuisinart |
| Model | TOA-70 |
| Controls | Dialers ( Programmable) |
| Material | Stainless Steel |
| Wattage | 1800 Watt |
| Capacity | 0.6 cubic feet |
Versatility is what people love in Cuisinart Toaster ovens and air fryers. All of the 8 cooking methods are highly appreciated among users. You can conveniently enjoy crisp air frying, baking, convection broiling or baking, warming, grilling, and toasting.
For electrical appliances, energy inefficiency makes potential buyers reluctant even though multi-functioning is adding ease to cooking. However, when asked multiple chefs about Cuisinart, what people most like about the product is its energy efficiency.
Cleanup is a hassle while handling the multifunctional grill and air fryer combos. However, easily removable nonstick trays and parts make it easy to clean. In addition, the spacious interior is good enough for chaos-free cleaning.
The temperature dials are a classical method that lets you quickly finish your cooking perfectly. Separate On and off oven/toaster, Temperature controls, and cooking function. Classical methods are more satisfying as compared to touch-button cooking.
The Model has a large capacity and multiple accessories for versatile cooking. 0.6 Cu. Ft capacity with 3 lbs of the air fryer is good enough for 6 toast slices, dozen of chicken wings, and a 12-inch pizza. So from the start to the main course, you can prepare all in one go. Whether it's breakfast, golden brown crispy toast, juicy steak for lunch, or air-fried veggies for dinner, you all need to adjust the dials and get well-done food quickly.
What we like
Extra large capacity with hassle-free conversions in the function
60 minutes auto shut off for safety
Endless possibilities for multiple meals
3 Year Warranty
What we don't like
Dial setting initially confuses touch screen addicts
The timer dial delays heating time by upto 5 minutes
What I call it is heaven for a terrible cook and worst baker. Or even if you are a nostalgic style lover, the Model is just the right option. From frozen pizza baking to juicy and tender steak preparation, all functions perfectly fit an average family's demands.
5- Kalorik MAXX AFO 47267 Oven Air Fryer and Grill Combo
Ultra-Fast Cooking Performance
| | |
| --- | --- |
| Brand | Kalorik |
| Model | MAXX AFO 47267 |
| Functions | 9-in-1 |
| Material | Stainless Steel |
| Wattage | 1700 Watt |
| Capacity | 26 Quarts |
I like cooking in the Klorik because it makes my kitchen space less crowded. Instead of installing multiple appliances in the mini kitchen, you can use a 9-in-1 functional unit of Kalorik Maxx. It is an Air fryer, grill, toaster, broiler, warmer, pizza oven, and rotisserie for a medium-sized chicken or turkey.
The oven air fryer and grill combo has a powerful 1800W motor that quickly heats up to 400°F and cooks food in a fraction of the time. I especially love the air fryer feature, which uses a high-speed fan to circulate hot air around the food for an even, crisp, and delicious result.
The Kalorik Maxx Air Fryer Oven Grill Deluxe has 22 smart presets and an intuitive LED interface that allows you to easily customize your cooking experience with just a few taps. The digital interface also allows you to adjust the temperature and time precisely. With the presets, you can quickly and easily make delicious meals such as French fries, chicken wings, and even pizza in minutes. It's a perfect appliance for anyone looking to save time and make healthier meals.
According to my testing, the Model amazingly reduces cooking time. All due to powerful turbo Maxx technology that reduces the preparation time. Compared to other air fryers and grill combos, Kalorik MAXX AFO 47267 speeds up the cooking. For chicken, it's up to 27% faster, and for juicy, tender steaks with perfect grill marks up to 37%.
Discovering the capacity of the oven is enough for large family sizes. You can prepare a feast in one go. The large cavity of the air fryer and grill combo oven with 2 winds door is suitable for 12 inches of pizza or 9 toasts at once. The Kalorik MAXX-Air Fryer Oven Grill Deluxe is designed with a stainless-steel interior and door frame that will stay clean with little effort, ensuring a pristine look that will last for years.
You don't have to be a professional chef to make Potato wedges and juicy grilled steaks in the Model. Adjust the dial knobs to prepare tasty and caramelized meat, fish, and vegetables.
Mostly, air fryer grill combos need authentic rotisserie. However, a feast without rotisserie chicken is incomplete. The Model has premium accessories to turn the Model into authentic rotisseries without compromising the taste and doneness.
What we like
Reduces fat consumption and prepares low-calorie food
Premium quality functional accessories
450 F searing for tempting caramelization
What we don't like
Mentioned temperature for functions is not accurate
Doors adjustment needs an accurate placement on the countertop
The glass door finish and nostalgic style compliments all kinds of kitchen interiors. Moreover, the energy-efficient yet versatile cooking functions with the shortest cook time make it stand out in the 7 best airfryer grill combo list. The Model is also recommended for restaurant-level cooking due to its large capacity and short cooking time.
6- T-Fal Easy Fry XXL-Air Fryer Grill Combo
| | |
| --- | --- |
| Brand | T-Fal |
| Model | Easy Fry XXL |
| Material | Stainless Steel |
| Wattage | 1750 Watts |
| Dimensions | 10.94″D x 13.31″W x 13.11″H |
| Capacity | 5.9 Quart |
Do you want to avoid complex and time-taking switching between frying, baking, and grilling? Then we are here with a recommendation for an air fryer grill combo which is the solution to this problem. T-Fal Easy Fry XXL has a striking one-touch technology feature that helps you instantly switch between grilling, baking, and frying. Its air pulse technology enhances the crispiness and crunchiness of the food by utilizing the cyclonic flow of air.
Although various air fryer grill combos in the market provide various distinctive features, T-Fal Easy Fry XXL is our recommendation due to its instant cooking tendency, large 5.9-quart capacity, and instant switching feature.
Moreover, having a large family is no longer an issue because its extra large capacity helps me cook meals for 6 to 8 people at once. Contrary to this, Ninja and Vortex air fryers have a capacity of just 5.5 and 5.7 quarts, respectively.
What we like
Instant switching function to switch between different modes like baking, frying, and grilling.
Touch controls for one-touch meal cooking.
Maintains the perfect texture and taste of the food.
Enough cooking capacity for serving 6 to 8 people.
What we don't like
The plastic holds of the grill are somehow loose and prone to loss.
Spare parts are unavailable separately, and you must buy a new grill.
As per my experience, I found this product as the best air fryer grill combo. Previously I had to wait for minutes to switch between various cooking forms. But, when I started using this T-Fal Easy Fry XXL, I was amazed as it takes only a few seconds to switch between frying, baking, and grilling.
7- Cattleman Cuisine 10-in-1 Electric Grill
| | |
| --- | --- |
| Brand | Cattleman Cuisine |
| Controls | Touch Controls |
| Material | Stainless Steel |
| Wattage | 1660 Watts |
| Dimensions | 14.18″D x 17.04″W x 17.04″H |
| Capacity | 6.5 Quart |
Cattleman Cuisine's grill and air fryer combo comes with a 10 in 1 electric grill and stainless steel which support 10 modes of cooking like baking, dehydrating, roasting, frying, and many more. All these modes can be operated with just a single touch. Its high-temperature capacity of up to 515oF enhances the texture of the food and leaves char-grilled marks on it to make it look more delicate.
The inner cover of the electric grill is made up of nonsticky and temperature-resistant material, which makes cleaning the product more accessible.
Comparing its size and cooking capacity with other air fryers and grill combos, we found it more spacious with a size of 6.5-quart capacity. Its cyclonic grilling technology has impressed us greatly as it ensures perfect meal cooking with amazing texture and smell.
What we like
10 in 1 functionality having different modes like baking, frying, and grilling.
Char-grilled marks for better food texture.
The package comes with all necessary items like a pot, basket, pans, etc.
Enough cooking capacity of 6.5 quarts.
What we don't like
Durability is somehow compromised.
The size should be more spacious, with a 6.5-quart capacity.
According to my experience, this product has a variety of features to make your cooking tasks easier and less time-consuming. On using this product, we found it multifunctional, easy to use, easy to clean, and reliable. Moreover, the package is a complete set of items like a grill pan, roast basket, cooking pot, oven gloves, and a detailed manual.
Buying Guide For Choosing The Best Air Fryer With Grill Option
If cooking delicious food for yourself and your peers is your ultimate desire, choosing the reliable and user-friendly air fryer grill combo is the topmost consideration. Various air fryer grill combos are available in the market, but choosing the right one according to your demand and choice will get your job done.
Here we present some important factors that must be considered to purchase the best air fryer grill combo for your kitchen.
Capacity and size
The first factor to consider when purchasing an air fryer grill combo is its capacity and size. Before considering this factor, you must know the number of your family members and the size of your kitchen.
If you belong to a large family, you must go for a 6-quart capacity air fryer grill combo. Contrary to this, if you belong to a small family, then any simple air fryer grill combo can be enough for you.
Options of cooking
The second factor is the option of cooking which includes the types of food that you cook the most. If you want to get different jobs done by the air fryer grill combo like fry, grill, roast, bake, and defrost, then you must ensure that the Model you purchase satisfies all these needs.
Moreover, some smart functions can impress and cook your food with just one button.
Budget
Budget is another common factor you should consider when buying an air fryer grill combo. If budget is not an issue for you, then there are a variety of air fryers grill combos like Ninja, which come with extra accessories and functions. Contrary to this, if you want a budget-friendly air fryer grill combo, then Power XL can be a good option.
Ease of use
Another factor that is quite important in purchasing an air fryer grill combo is its easy-to-use feature. An air fryer grill combo is only used if you can operate it properly. Secondly, the cleaning and care of the air fryer grill combo must be simple and not require expert help.
Temperature and power
Different foods and dishes require different temperature ranges to be cooked perfectly. You must make sure that the air fryer grill combo you will purchase supports the temperature range of the food you cook the most in your kitchen.
Moreover, the combo's power also matters a lot because the cooking speed depends on the power of the air fryer grill combo. One drawback of the extra powerful air fryer grill combo is that it will consume more electricity and power.
FAQs
Final Verdict
Until now, you might have selected a couple of options from the list of 7 best air fryer and grill combo. However, a cooking newbie might need help selecting the perfect one according to their cooking needs.
I recommend 2 air fryer grill combos that are very close to my heart to make selection much easier.
Compact, easy-to-operate, and spacious air fryer grill combo with 8 preset programs
Easy maintenance, dishwasher-safe accessories, and giant-capacity cooking allow you to abuse the air fryer and grill for the feast.
All the above recommendations are based on user experience shared on multiple platforms. Being a lazy chef with sensitive taste buds, I always look for easy to go option that cooks a delicious meal. One may have a different opinion based on the cooking type and personal choice. However, I have tried to compile a list that benefits all cooking preferences.
Mery Webber
Mery Webber, the founder of Kitchen Aims, is a passionate home cook with extensive experience in the kitchen appliance industry. Through her blog, she aims to share her knowledge and help readers create the perfect kitchen.