Best Non Toxic Air Fryers With Teflon – BPA, PFOA Free
Ceramic, titanium and heat-resistant glass-made air fryers are eco-friendly alternatives to Teflon coatings. Most air fryers have baskets with Teflon coating but claim to be a BPA- free appliance. So, it becomes quite chaotic to find the right airfryer which is budget, healthy, and Eco friendly simultaneously.
So, if you need clarification about investing in an appropriate airfryer without Teflon, you must check the temperature limits. Teflon coating emits toxins at 500 °F. If the product has certain temperature limits, avoid such an appliance. After researching multiple products in the market, I compiled a list of the 10 best non toxic air fryers. It will help you choose the right appliance for your kitchen and cooking style.
My Top Picks For Non Toxic & Teflon Free Air Fryers
While testing and analyzing the BPA-free and Teflon-free air fryers, I found some air fryers that perfectly fit the need of an average user. Moreover, I am biased toward 3 products due to their practical functionality and the variety of food they allowed me to prepare. I love experimenting with food recipes; all three perfectly match my cooking style.
So, if you want a versatile, compact, and efficient air fryer without Teflon, here are my top picks.
Chefman 6.3-Qt BPA-Free | Multi functional Digital Air Fryer
Big Boss Oil less Air Fryer | Super Sized Non Toxic Glass Air Fryer
Ninja DT201 Foodi  | Best Pick in all aspects.
9 Best Non Toxic Air Fryers – Comparison & Reviews
1- Ninja DT201 Foodi Stainless Steel | Teflon free 10-in-1
| | |
| --- | --- |
| Brand | Ninja |
| Model | Dt 201 XL foodi |
| Material | Material Stainless Steel (BPA Free) |
| Wattage | 1800 |
| Functions | 10 |
| Capacity | 12 lbs |
Stylish design, extremely easy to use, and multi-functional kitchen appliance easily accommodate all types of Kitchen. The stainless steel finish and premium quality built make me biased toward the product. Besides multiple functions and huge capacity, the appliance is completely Teflon-free and one of the best BPA-free air fryers. So, the parts that are supposed to directly contact the food item are made of non-toxic material.
The air fryer performs well with freshly cut french fries, but it could be more effective for frozen fries. However, the cooking performance was amazing overall. Broiling chicken for burgers, reheating frozen pizza, and baking cake or cookies was all well done with the least effort.
One of the features that confused me initially was the preheating time which I initially counted as cooking time. Ultimately, I removed the food before time, resulting in a slightly under-cooked meal. However, I soon realized that 1 minute 30 seconds is a preheat time, and the cooking timer starts after preheat phase. Therefore, I recommend reading the manual guidebook, which has 15+ recipes and mentions accurate cooking time.
The capacity of the oven is enough for a large-sized family. Moreover, double layers make it perfect for multiple functions at once. For instance, you can air fry french fries and roast full chicken simultaneously. To monitor the food in the oven, you don't have to open the glass door; you can see through the glass door. The functional racks are illuminated by selecting the function you are using.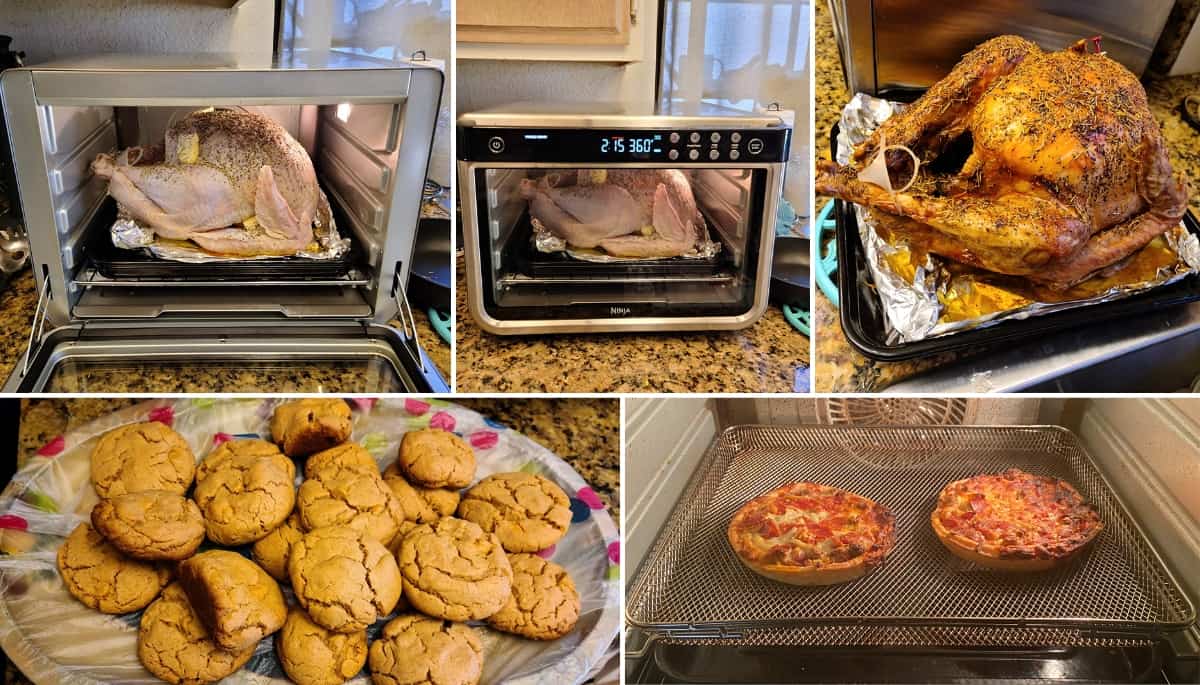 You have to put the multi-functional kitchen appliance in the ventilated space for optimal working. The stainless steel body heats up quickly and may damage the attached cabinets. However, leaving some space behind the oven will keep the oven working in good condition. The product made me stop regretting eating the food of my choice as it consumes 75% less fat with an amazing air frying feature. On top of it, the fries and fruit chips I made were even 30% crispier and extremely delicious. Another important feature that helped me avoid messy cooking is the removable crumb tray. Easiest to clean and readjust once the task is done.
What we like
Prepares feast in a short time and least effort
High-Quality stainless steel finish
Enlarged cooking area with Digital panel on the plastic handle
Multiple high-quality cooking accessories
Surround airflow with effective ventilation fans
What we don't like
Air frying is a bit noisy compared to other functions
The stainless interiors of the oven make it a bit difficult to wipe the grease
Ninja Dt 201, compared to Cuisinart TOA-60, has a high capacity and digitally oriented system. Advanced cooking presets and a large cooking area makes it my favorite. Ultimately, the convection oven with effective air frying and 9 other functions makes it the right choice for foodies.
2- Chefman 6.3-Qt BPA-Free Digital Air Fryer
| | |
| --- | --- |
| Brand | Chefman |
| Material | Stainless steel inside |
| Wattage | 1700 Watts |
| Functions | 8 Presets |
| Capacity | 6.3 Qt |
Chefman kitchen appliances are digitally advanced and also manufactured to meet the health safety criteria. Since Chefman 6.3 is cETL approved and has non-toxic material built. Besides being a low-cost air fryer, the product consumes the least energy and reduces electricity bills.
The machine size is perfectly fit for medium to small-sized kitchens and countertops. Although the product is heavyweight, the small and sturdy build gives a stylish look to the Kitchen. 14 inches tall and 11 x10 inches wide have sufficient interior space.
The Chefman 6.3-Qt is recommended for newbies in the Kitchen. Handling multi-functional appliances is a bit chaotic, but having an easy-to-setup and multi-functional digital air fryer is a blessing. Surprisingly, it reduces the cooking time and hardly takes a few minutes to understand the process. LCD screen is self-explanatory and guides the user with additional 8 preset functions.
I prepared perfectly crisp and golden Chicken Roast without creating a mess and in a short time. Even though it was my first time cooking in this air fryer but turned out to be the best meal I had ever made in the air fryer. However, I was initially confused with the rod placement, but the "R" and "l" labels helped me insert the tong perfectly.
One of the challenges everyone faces while using the digital kitchen appliance is cleaning the grease and food particles after cooking. Fortunately, unlike other appliances, the accessories and removable trays are dishwasher-safe. Therefore, it made the cleansing and maintenance hassle-free.
Another important feature is the short time cooking and producing enough quantity for medium to large sized meals. 6.3 Quart is spacious, allowing cooking plenty of food with 98% less oil consumption. Moreover, airflow racks, rotisserie spits, forks, baskets, and drip trays can help you make multiple combinations of meals.
The capacity of Chefman 6.3 Qt is higher compared to 3.2 qt and Chefman 5 qt. However, the rest of the functions are nearly identical, but if you need a digital air fryer for large quantities, then you must go for Chefman 6.3 qt. Although it consumes more wattage than other models, the cooking time and quantity reduce the overall cost of production.
What we like
Advanced technology with a high-speed convection system
Easy-to-use built-in presets and digital touchscreen
Interior lighting and glass door to sneak the food conditions
Dehydration and airflow racks keep the food crispy and dry
Dishwasher safe
What we don't like
Extra dehydration of the frozen pizza makes it quite hard and crisp
The door might pop open if not closed properly
I am concluding my opinion about the Teflon free airfryer; it's simple, easy to use, cost-efficient, and a large capacity airfryer. Moreover, along with air frying, other functions like roasting and reheating without making a mess. Furthermore, the auto-shut-off feature makes it secure for all types of people in the Kitchen.
3- Paula Deen 10 QT Digital Air Fryer
Adjustable 10 Preset Cooking Functions
| | |
| --- | --- |
| Brand | Paula Deen |
| Material | Stainless Steel |
| Wattage | 1700 Watts |
| Functions | 10 Presets |
| Capacity | 10 Quarts |
The 10-quart capacity is perfect for my family of four, and the non-stick ceramic coating makes clean-up a breeze. The digital LED display and 10 preset cooking functions are easy to use and have taken the guesswork out of cooking for me. I love the convenience of setting the timer and walking away, knowing that my food will be perfectly cooked every time.
Read my article to find the list of best ceramic air fryers.
One of my favorite things about this air fryer is its versatility. I've used it to make everything from chicken wings and sweet potato fries to homemade donuts and popcorn. And the best part? Everything comes out crispy and delicious without traditional frying methods' added fat and calories.
The auto shut-off feature gives me peace of mind and makes it easy to multitask while cooking. The 50 included recipes have inspired me to try new things and get creative in the Kitchen. Moreover, a digital control panel with an LED display allows modification with + and – signs and allows experimenting with cooking recipes.
Overall, I highly recommend the Paula Deen Stainless Steel 10 QT Digital Air Fryer to anyone looking for a reliable, high-capacity air fryer with multiple cooking functions and easy-to-use features. It's definitely made my life easier and healthier. FDA-compliant certification and an Air Fryer Without Teflon make it right choice for your health.
Cosori air fryers also have the same footprints. But overall, both the Paula Deen Stainless Steel 10 QT Digital Air Fryer and the Cosori Air Fryer Max XL are good options for those looking to enjoy the benefits of air frying. The choice between the two products may come down to personal preference in terms of shape, capacity, and price.
What we like
Auto shut-off feature for added safety
Ceramic non-stick coating for easy cleanup
Precise temperature controls
Retains the flavor, softness, and crisp
Rapid air technology ensures even and quick cooking
What we don't like
The air fryer emits a strong odor during the first few uses, which can be unpleasant
The Paula Deen Stainless Steel 10 QT Digital Air Fryer (1700 Watts) is non-toxic. The product is made with stainless steel and features a ceramic non-stick coating, both of which are generally considered safe and non-toxic materials for cookware.
4- Ninja AF161 Max XL Air Fryer
| | |
| --- | --- |
| Brand | Ninja |
| Model | AF161 Max XL |
| Material | Ceramic Coated |
| Wattage | 1750 Watts |
| Features | Programmable |
| Capacity | 5.5 quart |
The purpose of shifting to an airfryer is to enjoy crispy, tasty, and crunchy food without consuming the extra calories of deep-fried foods. Ninja AF161 Max XL air fryers can cook crispy fries and tender, juicy chicken wings. Moreover, I was astonished by the results as both seemed deep-fried.
Among all other models, I found, Ninja Airfryers are all Teflon and BPA-free products in the market. Furthermore,  the ceramic basket is non-stick and dishwasher safe, making the cleansing hassle-free. However, one must read the manual and user guide to find the tips and tricks to use the appliance optimally.
My criteria to test the best non-toxic air fryer is to consider the built material, cleansing procedure, and versatile functionality of the airfryer. Another important factor is the capacity of the airfryer, as it directly affects the cost of production. The Ninja AF161 max XL air fryer meets all the criteria with 5.5 qt and 7 versatile functions, including roasting, broiling, baking, reheating and air frying, air roasting, and dehydrating.
Ninja AF150AMZ Air Fryer XL, 5.5 Qt, has the same capacity and programmable system. However, I prefer NINja AF161 due to its low cost and 7 preset functions. At the same time, the Ninja AF 150 AMZ have on 5 functions. The handle is ergonomically designed, and the trays are simple to operate, allowing you to easily check on your food or give it a quick shake. Furthermore, Max crisp technology is perfect for frozen and processed food. Often frozen french fries become soggy in air fryers, but the french fries I made in this Teflon-free airfryer in the ceramic-coated nonstick basket were extra crisp and looked the same as deep-fried french fries.
What we like
450 degrees of Superheated air for crispier air frying
Cooks large capacity in a short time
Dishwasher-safe accessories are all BPA free
The deep-fried texture on meat and vegetables without messy oil frying
Versatile Cooking projects in a single appliance
What we don't like
Electricity consumption is a bit on the higher side
Not the right option for low cabinets
The Ninja multi-functional kitchen gadget is impressively user-friendly. Its control panel is intuitive and easy to navigate, displaying all available functions on a clear digital screen. Adjusting cooking time and temperature is chaos free with its simple manual toggles. One standout feature is the dishwasher-safe basket and inserts, making cleaning up a snap.
5- Big Boss Oil-less Air Fryer Non-Toxic Glass Air Fryer
| | |
| --- | --- |
| Brand | Big Boss |
| Model | 9065 |
| Material | Glass |
| Wattage | 1500 Watts |
| Functions | roast/bake/grill/air fry |
| Capacity | 14-15 liters |
The extraordinary design, glass bowl, and lid fixed with heating elements make it the best non-toxic airfryer. Moreover, the heavy glass bowl can tolerate the high temperatures of the airfryer without damaging the glass. However, glass material demands careful handling, such as filling the bowl with hot water before washing it under normal water to prevent pressure cracks. Moreover, one must carefully place racks and mesh baskets before starting the heating system.
The glass lid has a timer and temperature controls, which automatically shuts off when you open the lid. However, ensure wiping the air-tight seals after cooking as grease and leftover crumbs may loosen the seal and extend the cooking time.
The Teflon-free air fryer is a versatile kitchen appliance for cooking various food. You can adjust time and system controls according to the size and quality of the meal you need to prepare in the air fryer. Furthermore, a cookbook with 50+ cooking ideas allows you to become a pro with a big boss in no time.
Evenly roasted and air-fried food with 360 rapid heat circulation, powerful enough to cook the 5lb chicken. Temperature ranging from 180℉ to 400℉ will make your cooking experience like never before.
The best part of the Big Boss air fryer is its huge capacity of a 16-quart frying bowl. A problem with large-capacity air fryers is usually overcooked areas closer to heating elements. However, even after being filled to its maximum capacity, the large bowl has significant space, preventing overcooked portions.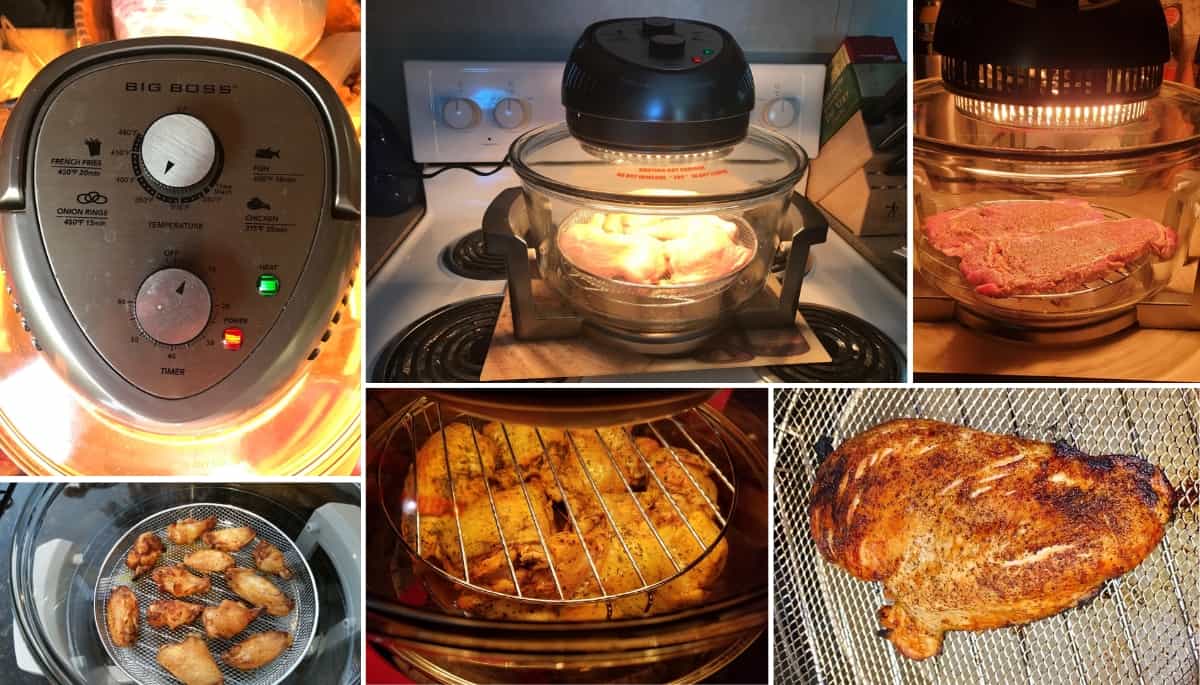 What we like
Multipurpose kitchen appliance roast, toast, grill and air fry and bake
Long-lasting durability with FDA-compliant built
Energy efficient 360° air convection system in 1300 watt
Essential accessories to prepare multiple combinations of food
What we don't like
Not suitable for popcorn kernels
Glass bowls may get cracks if not handled with care
Bigg Boss air fryer is bpa, Teflon, PFAS, and lead-free air fryer that adds value to your health. Moreover, the little oil consumption also makes your food healthier and safe. An air fryer is highly recommended for people with hypertension, obesity, and cardiac issues. Enjoy the food without compromising the cravings and taste.
6- Aria Air Fryers AAO-890 10Qt Teflon Free Airfryer
| | |
| --- | --- |
| Brand | Aria |
| Model | AAO-890 |
| Material | Teflon Free ( Stainless Steel) |
| Wattage | 1700 Watts |
| Functions | 8 Presets |
| Capacity | 10Qt (9.46 lt) |
Since an air fryer is a choice of health-conscious people, therefore, it has to be BPA and other toxins free. The airflow technology reduces oil consumption to 90% and makes your cooking journey completely health friendly. Moreover, the ceramic built material is easy to clean, and the accessories are dishwasher safe. It speeds up the whole cooking task from cooking to cleaning.
Furthermore, the LED-illuminated interior eradicates the need for guesswork. I could improve at guessing the exact condition of the cook, which always makes my food either overcooked or undercooked. But using the Aria air fryer, I can easily observe the process through the steam-resistant window.
Most air fryers like COSORI Air Fryer Max XL and Ninja Max xl are enough for 4-member family servings. Astonishingly besides being compact, with multiple levels, it can cook a huge food capacity in no time. Multiple cooking levels allow for preparing sizzling veggies, 12 inches of pizza, and juicy wings in one go. If you are a party freak and throw events at home, it's the right option for bulk meal preparation.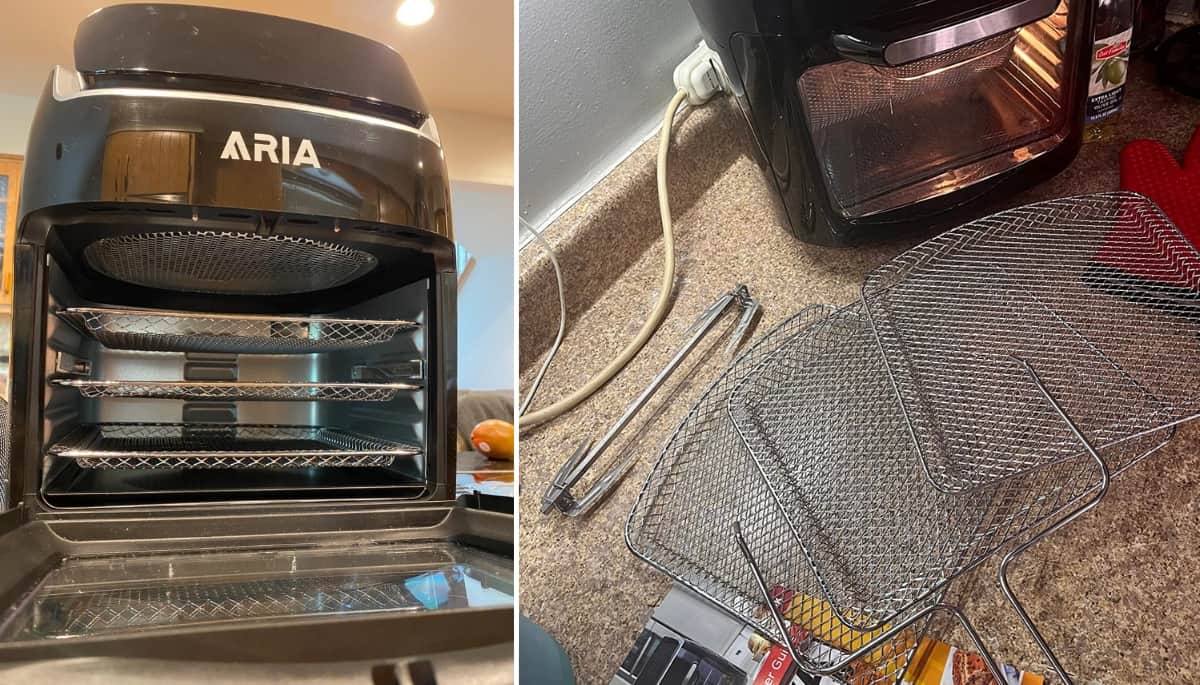 Another important feature I found unique to the model is the spinning cage. You can turn the upside down and get evenly seasoned food items. It also helps cook the food evenly without much effort. Whatever I tried in the Aria was perfectly cooked, dehydrated, roasted, or baked. Mostly rotisserie in the air fryer combos only offers steel rods and needs manual turning. But Aria has an automatically rotating attachment rod that evenly roasts the bulky chicken. Moreover maintains the softness and crispness of the food.
What we like
Commercial level of functions and food capacity
Single-tap presets with accurate settings
AriaFlow dehydrates and removes moisture from leftover foods
FDA-Approved and Toxin Free Material
Auto shut off/on with door open/closed with a touch-sensitive handle
What we don't like
Mesh baskets and grill racks need to be included
Due to multiple layers, quick air frying takes more than the average time
An eco-friendly air fryer with no Teflon and other toxins emissions makes it the right choice for bird pets in the house. Moreover, quick preheating of 400 degrees in no time makes it cost-effective. However, the 1700 wattage adds sufficient units to your electricity bill, yet the food capacity and ease compensate for the value. I highly recommend the appliance to home chefs or people in the food industry.
7- Ninja SP101 Digital Air Fryer & Countertop Oven
Compact Toxin-Free Cooking
| | |
| --- | --- |
| Brand | Ninja |
| Model | SP101 |
| Material | Stainless Steel (BPA Free) |
| Wattage | 1800 Watts |
| Functions | 8 (Programmable) |
| Capacity | 169 Cubic Inches |
The Ninja SP101 Digital Air Fry Countertop Oven is also BPA-free, Teflon-free, and toxin-free, making it a safe and healthy choice for cooking your favorite meals. This feature is a big selling point for me as someone who prioritizes health and safety. The ceramic-coated air fry basket and crumb tray are non-stick, so you can cook with minimal added oils or fats and easily clean up afterward. The kitchen appliance lets you enjoy delicious, healthy meals without compromising taste or convenience.
One of my favorite things about the Ninja SP101 is its spacious basket, which can easily serve a family of four. The wire rack also allows multiple items to be cooked in one go. The oven's smart controls and digital display make setting the customized temperature and cooking time easy. Additionally, it heats up quickly and evenly for consistent, delicious meals.
Another important feature that sets the Ninja SP101 apart is its 8-in-1 functionality, which includes air frying, roasting, baking, broiling, toasting, and dehydrating. The appliance comes complete with an air fry basket, wire rack, and crumb tray, making it an excellent value for the price.
Although the oven interior is spacious, the flip-up store orientation reclaims your counter space. Moreover, you can easily open the backside of the oven for deep cleansing and to prevent the food crumbs from damaging the machine.
What we like
Pretty easy to learn multiple cooking recipes
Prepare a well-done family-sized meal in a minimum of 20 minutes
Reduces 75% of fat from food and retains the nutrients with taste
The 8-in-1 functional machine is compact enough for a small countertop
Digital crisp control technology ensures perfect crunchy crisps
What we don't like
You might need parchment paper in the sheet pan
Need oven mitts to remove the trays
Compared to a traditional oven, it cooks 60 % faster and 100% healthier food with the least effort. Moreover, 75 % less fat consumption makes air frying healthy and delicious. I recommend the air fryer for modern kitchen styles with minimum counter spaces.
8- Oster Dura CKSTAF-TECO | Ceramic Air Fryer Teflon Free
Ceramic air fryer with Tilt mode
| | |
| --- | --- |
| Brand | Oster Dura |
| Model | Dura Ceramic |
| Material | Ceramic |
| Wattage | 1500 Watts |
| Special Feature | Tilt mode |
| Capactiy | 3-liter |
One of the things I don't like about vertical air fryers is you have to open the system and stir the food to even cook. But the Oster Dura tilt motion and fan-assisted convection make your food crispier, tastier, and evenly cooked without much effort.
Although the company claims to reduce oil consumption by 95% was not very true in my case. I needed to become more familiar with the product and use some extra ounces. So, if you follow the guidebook that comes along with the product, you will surely see the difference.
Unlike a conventional nonstick coating, the titanium-infused coating reduces the cooking time and ensures the food prepared is toxins-free. Moreover, it is much more durable and easy to clean than nonstick coatings. The ceramic coating is easy to clean, and the removable frying basket and pan are dishwasher-safe.
Another important feature that attracts me is its compact size and multi-functions. With small product dimensions, it has a maximum cooking area that can easily accommodate food for a family of 4. Using digital controls, you can air fry, grill, saute, and bake delicious recipes with your own innovation. It can easily fit up to 3 pounds of food, perfect for feeding a family or meal-prepping for the week.
Additionally, it has a dual mode of cooking, grill mode, and heat-fan mode. Both functions were perfectly fine with the guideline mentioned in the handbook. Moreover, you can also select the tilt mode, which tumbles the bowl, and in no tilt mode, you can place a grill rack for baking and grilling. The lid has temperature control and a digital LCD. The Lid is easily removable, and you can easily clean the appliance. In addition, the lid is touch-sensitive, and opening the lid shuts off the heating system. Moreover, after meeting the timer setting, it automatically shuts off the system when the food is ready. So there are no accidental burnouts.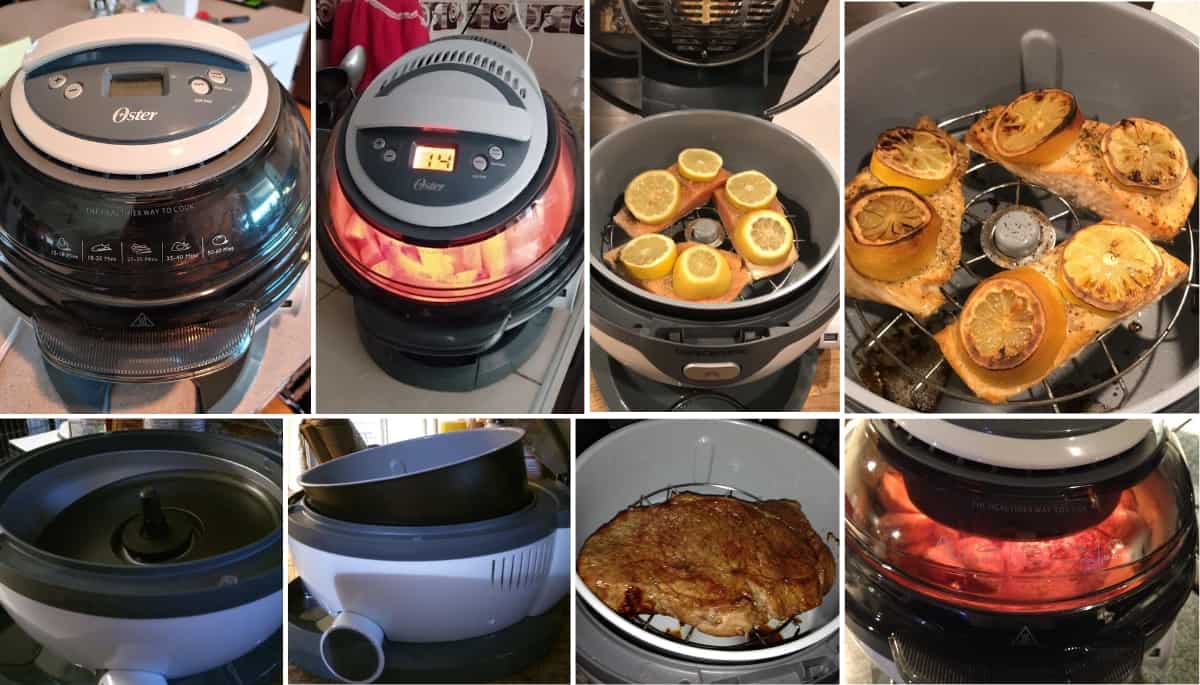 What we like
Tilt motion for even cooking
Adjustable temperature controls for versatile cooking
Dureceramic nonstick baskets are durable and dishwasher safe
Air fry crispier food with a few drops of oil
Perfect cooking partner for a busy life
What we don't like
Loading maximum capacity of food may result in difficulty tilting
Some recipes need guesswork
Overall, I highly recommend the Oster Dura CKSTAF-TECO Ceramic Air Fryer for anyone looking for a versatile, non-toxic, and easy-to-clean appliance that can handle various cooking tasks. The product is a time saver for one who is always running out of time and has busy schedules.
9- Nutrichef Air Fryer with Infrared Convection and Halogen Oven Technology
Quick and Healthy Cooking
| | |
| --- | --- |
| Brand | Nutrichef |
| Model | PKAIRFR48.5 |
| Material | Stainless Steel & Glass |
| Wattage | 1200 Watts |
| Technology | Infrared Convection |
| Capacity | 13 quarts |
The Nutrichef PKAIRFR48.5 Air Fryer is a powerful and versatile kitchen appliance that can help you easily prepare quick and healthy meals. With its infrared convection and halogen oven technology, this air fryer can cook food faster than traditional ovens while still producing delicious and crispy results.
One of the standout features I like about this air fryer is its large 13-quart capacity, which allows you to cook for the whole family or entertain guests easily. The stainless steel construction looks great on any countertop and ensures durability and longevity.
The Nutrichef PKAIRFR48.5 Air Fryer also comes with various accessories, including a dual rack, tongs, and a baking tray, allowing you to cook multiple items simultaneously. The digital touch screen with adjustable time and temperature settings makes cooking a wide range of dishes easy, from French fries to roasted vegetables and even desserts.
My opinion of the product was better than expected when I tested it personally and compared it to other models of Nutrichef and Ninja Foodi. Although the size is quite big and the glass bowl demands careful handling, bulk production, and huge capacity make me love it. The appliance is good enough for restaurant-style cooking but in a healthier way.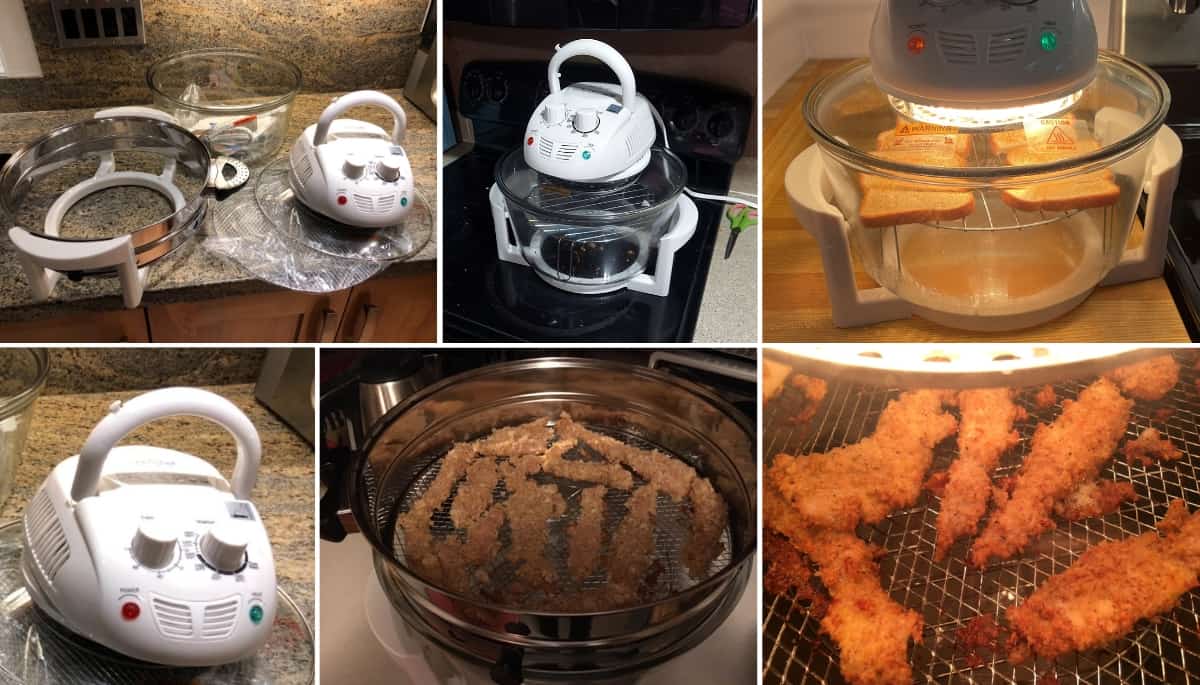 While the Nutrichef PKAIRFR48.5 Air Fryer is a great appliance, it has some drawbacks. It cannot be easy to clean due to its size and shape. Additionally, the halogen bulb can be fragile and may need to be replaced over time, which can add to the overall cost of ownership.
What we like
Infrared convection technology ensures quick and even cooking
The large 13-quart capacity is perfect for cooking meals for the whole family
Halogen oven function allows for versatile cooking options
Stainless steel construction is durable and easy to clean
Can prepare quick and healthy meals, including French fries and chips, with little to no oil
What we don't like
Control dials are not very smooth and difficult to set
The manual is brief and does not include detailed guidelines for the product
Overall, if you're looking for a powerful and versatile air fryer that can cook a wide range of dishes quickly and efficiently, the Nutrichef PKAIRFR48.5 Air Fryer is worth considering.
How do I choose the Best Non-Toxic Air Fryer – Buying Guide
Buying the best non-toxic air fryer is not a big deal now because here we discuss the most important factors that must be considered before buying a non-toxic one. These factors include size, price, materials, and features and are discussed in detail below.
Material:
Whenever you go to the market to buy a non-toxic air fryer, the first thing that you must confirm is its non-toxic material. Air fryers having nonstick coating are highly not recommended because they release toxic and harmful chemicals on heating. On the other hand, ceramic-coated and stainless steel air fryers are not toxic and best to use.
Size:
The second important factor to consider when buying a non-toxic air fryer is its size. The size of the air fryer must be according to the requirement of your Kitchen and the space. You must go for a large air fryer with a greater capacity if you have a large family.
Features:
The third and most important factor to consider when purchasing an air fryer is its features and specifications. Some air fryers have smart control systems like built-in timers, temperature controls, and cooking programs. However, these are expensive.
Brand ratings and reviews:
Another important point to consider when purchasing a non-toxic air fryer is its brand. The ratings and reviews of a brand help a lot in choosing the right company. If the brand is reliable, the non-toxic air fryer will perform well in your Kitchen.
Price:
Last but not least factor that must be considered while purchasing a non-toxic air fryer is its price. There are various models of non-toxic air fryers in which. Some are budget-friendly, while others are high-end models. You must select a non-toxic air fryer that suits your budget and price.
Moreover, reading the user manual and instruction card will also be helpful in appropriately using your air fryer. Furthermore, you must ensure that the cleaning and washing of non-toxic air fryers must be done according to the instructions to avoid any potential hazards.
FAQs
Final Verdict
So the best way to find the right product is to set the criteria according to your needs. Getting the best non-toxic airfryer leads you to a healthier lifestyle. Moreover, it's also good to have an appliance with eco-friendly footprints.
According to my testing and research, all the products mentioned are Teflon and BPA-free. However, the cooking style, capacity, wattage, and orientation make them distinctive. My list of 10 Best Non-toxic Airfryer is a balanced combination for all users. Whether you opt for an air fryer due to busy lives or a healthy lifestyle, I have something for everyone.
Let me know what else you want to know more about air fryers.
Mery Webber
Mery Webber, the founder of Kitchen Aims, is a passionate home cook with extensive experience in the kitchen appliance industry. Through her blog, she aims to share her knowledge and help readers create the perfect kitchen.