How to Make Ice Cream with A Ninja Blender? – A Very Easy Guide
Do you love ice cream to eat daily in every season? If yes, then you must find better ways to make ice cream at home because they are somewhat costly to buy every day. Also, some flavors of ice cream are costlier than the normal flavors such as chocolate and butterscotch flavors.
So, how to make ice cream at home? It is fairly easy, and once you have a Ninja Blender at home, it becomes even quicker. If you understand the procedures, this blender can make ice cream for you in no time.
Let's jump into the various methods of making delectable ice cream flavors at home using a Ninja blender.
Can you make ice cream with a Ninja Blender?
Ice cream is a creamy dessert that is eaten frozen. It is equally liked among elders as well as the younger ones. People would prefer ice cream after mealtime and children love to eat it all the time. This meal contains dairy ingredients.
To prepare ice cream with a unique flavor, you must blend various ingredients. Ice cream makers are typically used to manufacture the ice cream that is sold in shops. What will you do if you don't have an ice cream-making appliance at home? The good thing is that you can still make ice cream using a Ninja blender at home.
As a blender is an inexpensive appliance that can be used to save money, most people will prefer it to prepare ice cream. You can also make different flavors of ice cream whenever you like with the help of a blender. To find the best blender for ice cream you can visit this article.
How to make ice cream with a Ninja Blender?
Due to two factors, every Ninja blender ice cream recipe will be the same and give you a delicious taste. One is using the proper components, and the second is appropriately utilizing them.
So, consider using your Ninja blender to follow these instructions if you would like a bowl of delicious ice cream right in front of you within no time.
Step 1
First of all, you must ensure that you have all the proper ingredients, in the correct proportions. To start, take a cup of thick beaten cream for your Ninja blender ice cream. Next, you will have to get some evaporated milk.
You should keep in mind that the concentration is maintained at no more than 1/3 cup.
Now you will add the flavor component, or essence whatever you want. Then if you need, you can mix 1/4 teaspoon of vanilla extract into the mixture. It depends upon your choice of which flavor you would like to add to the ice cream.
Step 2
Now put the whipped cream into a large bowl. Along with this, you will have to add concentrated milk and everything will be whipped together until it is completely dissolved. You must keep in mind that you don't have to blend for more than one minute. It is because overmixing will make pouring the material more difficult.
Step 3
Now you will have to add the mixture to the blender's container. You must check to see that you have discarded everything. If the mixture is still present in the bowl, you can use a spoon or brush to put all the mixture into the blender.
Step 4
Now you will have to close the blender's cover firmly when you have finished emptying the bowl. The icon with the term "Ice Cream" on it will be found on the settings menu. When you click it, it will begin mixing for a minute.
Step 5
Putting the mixture into the bowl after blending is the final phase of the Ninja blender ice cream-making process. You will have to put the contents into a container after mixing is complete. After that, you will place the bowl in the refrigerator.
After a few hours, it will be prepared to serve as your delight. Moreover, you can put it in the freezer until it gets the form of ice cream that you would like.
Why Ninja Blender is the best choice to make Ice Cream?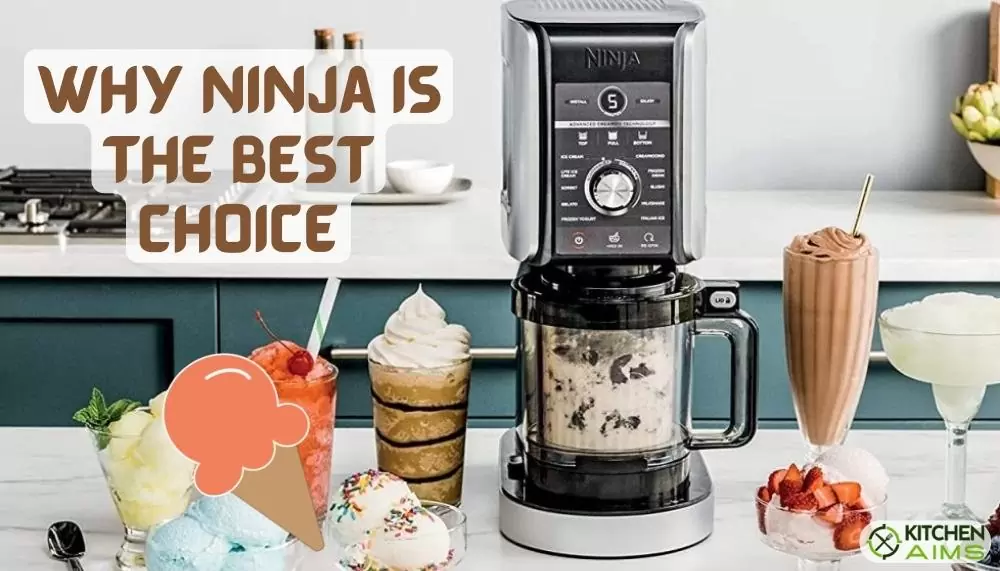 Due to the following reasons, the Ninja blender is the finest option to make ice cream among all other blenders:
The Ninja blender has a stylish design with a straight form, elegant exterior, and control keys that are intelligently positioned for quick access. So, it will look attractive in your kitchen.
Its size is low as a blender, which makes moving it from one location to another very simple. You can easily carry this blender with you anywhere you go.
Not only that but also the ninja blender is famous for its small size and requires little storage space. So, you can place it anywhere you want in your kitchen or room.
The blender's motor has a high-power level and it is also incredibly silent. As compared to other blenders, this one has a less blending sound that will not irritate you and other members of your home.
Ninja blenders have robust rotors that can endure a lot of pressure. These blenders have motors to chop materials into smaller pieces. This blender's motor has a rated power of roughly 1000 watts. This will make it powerful enough to crush even the hardest food items.
The blender is constructed using sturdy and high-quality components that won't break easily. These components contain harder plastics, robust glass, stainless steel, and aluminum, which are also resistant to external abrasion and wear.
The medium, low, and pulse settings on the Ninja blender are also efficient capabilities for adjusting the blender's power. It will help to achieve the desired consistency for the finished product.
The blender can mix additional quantities in a single blending operation. It is because it has a large size with sufficient capacity, which is about 72 ounces. This size of the ninja blender is significantly greater than the capacities of most blenders.
Tough plastics are normally manufactured with toxic bisphenol A. Most domestic tools, especially kitchen utensils and other items, are composed of hard plastics. When these items are used to consume in any way can cause health problems, such as deformations.
Ninja blender is completely harmless and safe because it doesn't contain this component. So, you can trust it.
The blender's components are completely machine-washable. In this way, washing it in the dishwasher is a useful way to do it without facing the risk of damaging the appliance. It will save you time as well as effort.
Also, read why your ninja blender power light blinking red.
Reputable manufacturer: Ninja company is known for producing long-lasting and high-quality blenders all over the world. Additionally, they have excellent customer service, which makes sure that the issues and suggestions of their clients are properly addressed.
How to make Chocolate Cherry Ice cream with Ninja Blender?
It is not difficult to make chocolate cherry ice cream with a Ninja blender. You can simply add a one-half mug of cherries to the mixture to give your chocolate ice cream a ruby flavor.
It could be one of the many easy alternatives that impart a fruity flavor to chocolate ice cream. You can also try this with a strawberry or a banana. After adding them, you can blend them in the blender with whipped cream and milk according to the previous method.
This new variety of ice cream can be produced from all of your favorite fresh fruits! So, enjoy your favorite flavor of ice cream anytime when you crave it.
Also, read our article to find the best blenders for acai bowls.
Tips to make Ice Cream using Ninja Blender
Anyone can try the simple method of preparing ice cream in a blender. With the help of a few pointers, you can become a professional in this. Let's discuss them.
FAQs
Conclusion
The Ninja blender can be utilized for a variety of food-related tasks. It includes regulating the processing, mashing, mixing, and ice shattering. This useful cooking tool can also be used to make milkshakes and fruit drinks as well as ice cream.
This article has covered the complete detail about how to make ice cream with a Ninja blender. So, you can follow the steps and instructions to make delicious ice cream scoops at home.
Do you have any queries? Feel free to ask!
Mery Webber
Mery Webber, the founder of Kitchen Aims, is a passionate home cook with extensive experience in the kitchen appliance industry. Through her blog, she aims to share her knowledge and help readers create the perfect kitchen.